The High School Nerd!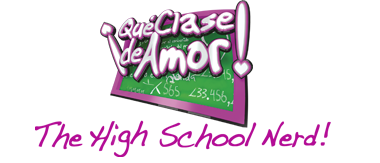 The joys, conflicts, triumphs, dreams and disappointments of adolescence are brought to life in this fun-filled coming of age story set in an urban high school.
The plot revolves around the school's most popular and rebellious group, known as "Los Populares," whose leader, Diego Padilla, is a gorgeous Casanova who makes all the girls swoon. While Diego is in a relationship with Stefanie Mendoza, the prettiest and most pretentious girl in the school, fate has something very different in store for him. Much to his surprise, the new nerdy girl Alejandra Martínez, who happens to be the complete opposite of what Diego typically likes, will ulitmately sweep him off his feet.
The only reason he approaches Alejandra and her geeky friends is to use their help for his studies. But once Alejandra sets her mind to Diego and becomes determined to win his heart, not even Stefanie, with all her beauty and popularity, will be able to stop the power of Alejandra's love.
This universally entertaining novela features a cast of young actors whose fresh talent shines in a series of interconnected stories filled with romance, comedy, real-life situations, and important lessons about growing up.